Discover the Biophilic Design Trends of the Year
Revolutionizing the built environment
What does the future of the workplace look like? From the boardroom to the reception area, biophilic design makes an immediate and pronounced impression on its inhabitants. Biophilic buildings inspire and motivate, creating enriched and empowered spaces that unequivocally improve business outcomes.
Ambius' elite team of design experts have identified six major biophilic design trends that will be at the forefront of facility design in the years to come.
Discover the latest trends set to shape the office environment in 2019 and beyond.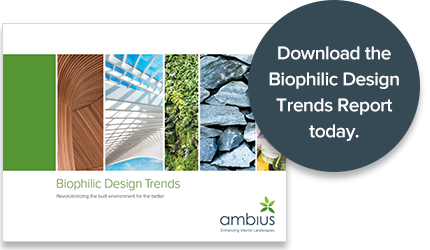 An in-depth analysis of the Biophilic Design Trends of the year from some of the industry's foremost design experts. Discover the designs that will change the way we work.
Design trend analysis from Ambius award-winning designers
The key features and inspirations behind each design
How biophilic design elements are changing and transforming buildings
How biophilic design and architecture are changing the built environment
Why biophilic design matters in 2019 and beyond